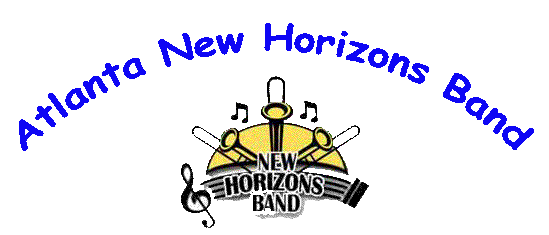 ---
Members | Rehearsal & Concert Schedule | Practice & Concert List | Bulletin Board
---

The Atlanta New Horizon Band is a music program for folks at least 50 years of age, is an affiliate of the New Horizons International Music Association, and is sponsored by Carere Music, Inc., 4947 Winters Chapel Road, Atlanta, GA. You can see a list of our members here. We perform at a variety of venues — churches, retirement homes, etc. You can see our performance schedule here.
If you have any interest in having the band play for your group, please contact our Marketing Director, Mitzi O'Connell.
The band rehearses each Wednesday from 1:00 PM to3:00 P.M. at St. John UMC, 550 Mt. Paran Road, Atlanta, GA 30327.
The band's officers are:
Music Director: Fritz Siler

Bill Snelling
President


Kirk Wilson
Secretary

Ken Leddick
Treasurer

Charles (Chuck) Preston
Librarian


Mitzi O'Connell
Marketing Director


Al Loebe
Publicity Director


Wolfgang Tiedtke
Web Master

---
Members | Performance Schedule | Practice-Concert List | Music Folder| Photo Gallery| Links| By-Laws
---
Many thanks to George Cain of the East Cobb New Horizons Band for granting me permission to modify his HTML source code.
The webmaster welcomes all questions, comments, complaints, and suggestions.

March 16, 2017